Highlights of Sydenstricker Angus History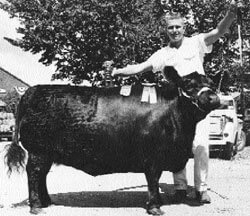 Eddie Sydenstricker with his 1956 Missouri State Fair FFA Show Grand Champion Female, Viola K.

Eddie and his sister, Betty Jo, became very active showing in 4-H and FFA. Eddie was involved in forming the very first junior Angus association in the U.S., when, in 1956, the Missouri Junior Angus Association was organized at Monroe City, MO. Eddie served as the first president, assisted by Ronnie Rodgers, vice-president; Fred Blades, secretary; and Liz (Perry) Coon, treasurer. Lyle Haring, regional manager for the American Angus Association, and Ed Stout, Missouri Angus Association fieldman, were instrumental in this project. Later, Eddie was selected by Dean Hurlbut, the newly appointed Director of Activities at the American Angus Association, to participate in the first "Star of Your Future" film produced by the Association. Eddie continued his involvement in FFA, serving as State Secretary in 1957-58, and receiving the American Farmer degree in 1960.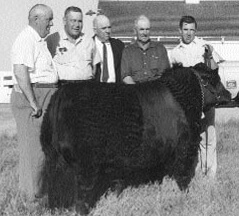 TA Ekonomist 7, top-selling bull, 1962 Treasure Acres Sale. (L to R) Paul Benshoof, owner of Treasure Acres; Ralph Sydenstricker; Del Miles, Madison, MO; R.M. Beamer, Paris, MO; and John Montgomery.

Ralph teamed up with Jim and Ray Blades in 1959 for their first production sale. Col. Roy G. Johnston was the auctioneer, and the ringmen were Lyle Haring, Mark Dempsey, Wes Hays, Veryl Jones, Ed Stout, and Nick Iman. Ralph continued to have production sales through the sixties. The top bull in his 1964 sale was a son of TA Ekonomist 7 that sold for $1,000. Ralph was elected president of the Missouri Angus Association in 1966.
In the 70s, Ralph stepped up the pace a bit, and, looking for a little more growth, imported several heifers and bulls from Canada. Twenty females with a total price tag of $21,980 were brought to Mexico, MO, in December 1974. He found Happyvale Olympic 012H at the side of his dam in June, 1976, and returned later to Canada to make him the top-selling bull in the Happyvale sale at $20,000.
While Ralph was expanding the cow herd, Eddie and a talented mechanic named Van Botkins designed and campaigned the Cajun Queen pulling tractor, winning every National Championship there was. Eventually, John Deere Engineering at Waterloo, IA, took the engine from this tractor to develop the 466 cubic inch engine that was used in all the 40 and 50 series tractors made by John Deere for nearly twenty years.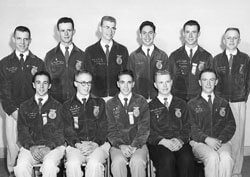 Missouri State FFA Officers, 1957-58. Eddie Sydenstricker, secretary, seated fourth from left.

Ralph decided he needed some help with the quality herd he was putting together, and, in search of a herdsman, scheduled Wayne Kestler to come to Mexico for an interview on January 6, 1977. Wayne Kestler did come to Mexico that day, as did many other Angus friends, but it was not to discuss the position of herdsman, it was to attend the funeral of Ralph Sydenstricker.
Eddie, busy with the dealership for many years, now had a decision to make regarding the farm and the cattle. Obviously, he chose to continue the Angus operation, known as Sydenstricker Angus Farms, and to hire Wayne Kestler as herdsman.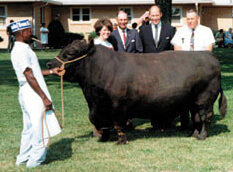 Lewis Moten holding the Bandolier bull from Greenwell's. Standing behind the bull are Betty Jo (Sydenstricker) Brooks, unknown, True Davis, and Ralph Sydenstricker. This was during the True Davis campaign for U.S. Senate in 1968.


Eddie wasted no time. In March 1977, he acquired Eisa BAS 89 for $2,000. She produced the $33,000 SAF Windwalker and the $12,000 SAF Windjammer during her tenure here. On June 21, 1977, Eddie acquired an interest in Happyvale Marshall Pride 013G, known as "Mighty Marshall." He was owned with Erdmann Angus, Wetonka, SD, and Jim Baldridge, North Platte, NE, and sired the Grand Champion Carload of Bulls at the 1978 National Western, along with the top selling pen of heifers at the 1978 Denver Foundation Female Sale.
An early female who left a mark on the entire Angus breed was Schearbrook Wendy N023, purchased for $5,100 in June 1978. A son was grand champion and top selling bull at the 1981 Missouri State Sale, and she produced many other showring champions and top sellers for the program, including a $14,000 daughter. Wendy herself topped the 1981 sale at $18,750 to Coy Glenn in Mississippi. Today, descendants of the Wendy cow are the three highest ranked milk EPD females in the Angus breed, all tracing back to our heifer calf consignment to the 1987 Missouri Angus Futurity.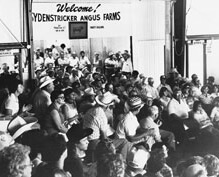 August 5, 1979 - Missouri Angus Field Day at Sydenstricker Angus Farms.

Through the 70s and early 80s, Eddie and Connie's daughters, Kim and Lee Ann, showed extensively in junior shows throughout the country, perhaps highlighted by Lee Ann's last show heifer becoming the farm's first Missouri State Fair Grand Champion Female in 1984, with a descendant of Wendy. Kim and Lee Ann were both active in the Missouri Junior Angus Association their father helped start, and both served as officers.
Eddie served as treasurer of the Missouri Angus Association for many years, and served three years on the American Angus Association Board of Directors.
The first Annual Production Sale was held in November 1978. The sale was managed by National Livestock Brokers, and the auctioneers were Jim Baldridge, Nick Iman, and Al Conover. The ringmen that day were Veryl Jones, Tim Lackey, Paul Gibbs, Mark Dempsey and John Barton, as 141 lots averaged $1,332. Also in 1978, Don Simpkins joined the crew until his retirement in 1991.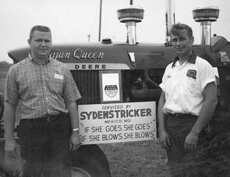 Eddie and Van Botkins with the "Cajun Queen."


One of the most talked-about bulls of his era was Cracker Jack Baros 2459, better known as "Prime Rate." On the day Prime Rate was shown at the Iowa State Fair, a cattleman called the John Deere store, and talked to a parts man not at all knowledgeable about the Angus herd. When the cattleman asked, "What did Prime Rate do today?" the parts man, wondering why anyone would call an implement dealership to check on interest rates, replied, "Went up again, I suppose," and hung up. In the 1981 sale, the first Prime Rate calves were featured at the most successful sale held to that point. Col. Ray Sims and Col. Jim Baldridge cried the sale, with Veryl Jones, Dean Pike, Greg Garwood, Tim Lackey, Mark Dempsey, Lyle Eiten, John Barton and "Doc" Smith working the ring. National Livestock Brokers managed the sale, and John Rudolph and John Ponticello served as consultants.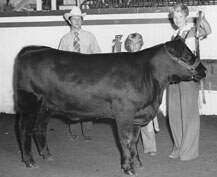 L - R: Gary Minish, judge; Lee Ann Sydenstricker and Kim Sydenstricker, with Kim's champion 4-H heifer, about 1977.

Bill and Li Bowman were hired in 1981, staying through 1989, and had a significant impact on the program during the 80s. Ben Eggers joined the team in 1982. Many other good employees have come and gone through the years, including Charley Boyd, Lewis Moten, Dale Randolph, John Ripperger, Randy Graham, Bonnie DeYoung, Todd and Tracy Ragsdale, Ed and Mandy Raithel, Dan Sharp, Allen Robinson, Randy Ray, Ken Rhodes, John Schneider and Travis Sharon.
The 80s were an exciting time at Sydenstricker's, as the foundations were laid for many of the cattle we still have. The purchase of three females from the mating of Brost Power Drive to Leachman Lass 1004, two of them as heifer calf pregnancies and one as a $19,000 heifer calf, set the stage for today, as evidenced throughout this sale book. Also from Jay and Les Leachman, an $18,000 heifer named Leachman Royal Queen 2027 founded the Royal Queen family here. A Rito 2100 GDAR daughter, Pride Queen T 4155, purchased at the NILE, put her stamp on the Angus industry with a flush of calves born in 1986 that included SAF Power Shaft 6021, the $33,000 SAF Pride Queen 6013, and the record-holding highest selling bull and heifer to ever sell at a Missouri State Sale, the $12,500 SAF Power Fix and the $40,000 SAF Pride Queen 6012. Then, in 1989, in Manhattan, MT, we outbid three competing syndicates to acquire two-thirds ownership in VDAR New Trend 315, the bull who defined multi-trait superiority, and set the tone for the Sydenstricker program through today.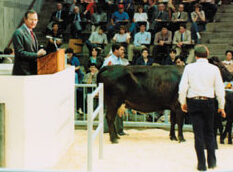 Bill Bowman in the ring of the Trowbridge Livestock Arena at the University of Missouri, showing President George H. Bush the miracle of embryo transfer in the late 80s.

In 1990, we shocked the Angus community by scheduling the Dispersion minus Fifty sale, where we sold down to 50 registered females in what turned out to be our highest-grossing sale to that point, proving that truth in advertising can work, and that at least 67 bull calves can be sold in Missouri on one day. No sale was held in 1991, so we used the extra time available to scour the country for fresh genetics to bring in. The deal to "pick" six heifers from the entire Gartner-Denowh heifer calf crop, on an alternating basis, turned out to be one of the best things we've ever done, as females like GDAR Forever Lady 178 and GDAR Forever Lady 246 have proven their value many times over.
Throughout the 90s, we put more and more emphasis on the commercial side of the industry, stepping up our carcass evaluation of herd sires, exploring new programs that could benefit our commercial customers, supplying more and more useful performance data to our customers and creating the Sydenstricker Influence Sale. We published our first Herd Sire Directory in 1993, the same year a calf named SAF Fame topped our sale at $27,000, and actively pursued the direct semen sale market. We had the first 100-head single owner bull sale in Missouri in 1996, where we also sold the top selling bull calf in our history, SAF Focus of ER, at $68,000. In 1997, we received the CAB® Seedstock "Commitment to Excellence" Award, primarily for our focus on carcass traits equally with performance traits. SAF Fame became the second most heavily used bull of the breed in 1999-2000. Many more top females and sires were added in the nineties, and their impact is evident in this sale offering. In 1993, Ben Eggers was elected President of the Missouri Cattlemen's Association, and in 1998, he was elected to the Board of Directors of the American Angus Association. In 1995, Eddie received the Livestock Person of the Year Award from the University of Missouri Block and Bridle Club.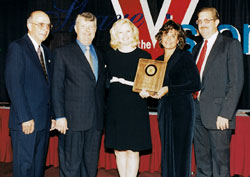 Receiving the 1997 CAB® Seedstock "Commitment to Excellence" Award.
Mick Colvin, Eddie L. Sydenstricker, Kim (Sydenstricker) Monte, Darla and Ben Eggers.

Entering the new millennium, we took a big step. Wanting a distinctive prefix, and to send the message that we are selling genetics, not just cattle, we changed our name to Sydenstricker Genetics. After 40 years of using the SAF prefix, it will take us all a while to get used to SydGen, but we will. In 2001, the first bull to sell with the new SydGen prefix, SydGen Refocus, broke his full brother's record to become our top-selling bull ever, at $100,000.
For fiscal years 2000 and 2001, more calves were recorded (10,102 calves in 2001) at the American Angus Association sired by SydGen-owned herd sires than by the sires of any other breeder. At the 2001 Beef Improvement Federation meeting, we were awarded the Seedstock Producer of the Year Award, the most prestigious award in the seedstock industry, signifying the national impact of the Sydenstricker program.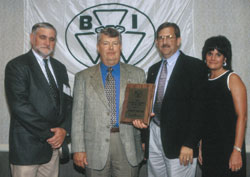 Receiving the 2001 Outstanding Seedstock Producer of the Year Award from BIF President Galen Fink at the 2001 Annual Meeting. Galen Fink, Eddie L. Sydenstricker, Ben and Darla Eggers.



As we go forward from here, technology will become more and more important to the beef industry. Our involvement in ORIgen signifies our desire to stay on the cutting edge of the events and advancements that shape the future of our industry.